Oh this weekend! Almost nothing that I intended to do this weekend has been done, and that upsets me a little bit, but. But. BUT.
The ROYALS ARE GOING TO THE AMERICAN LEAGUE CHAMPIONSHIP SERIES!!!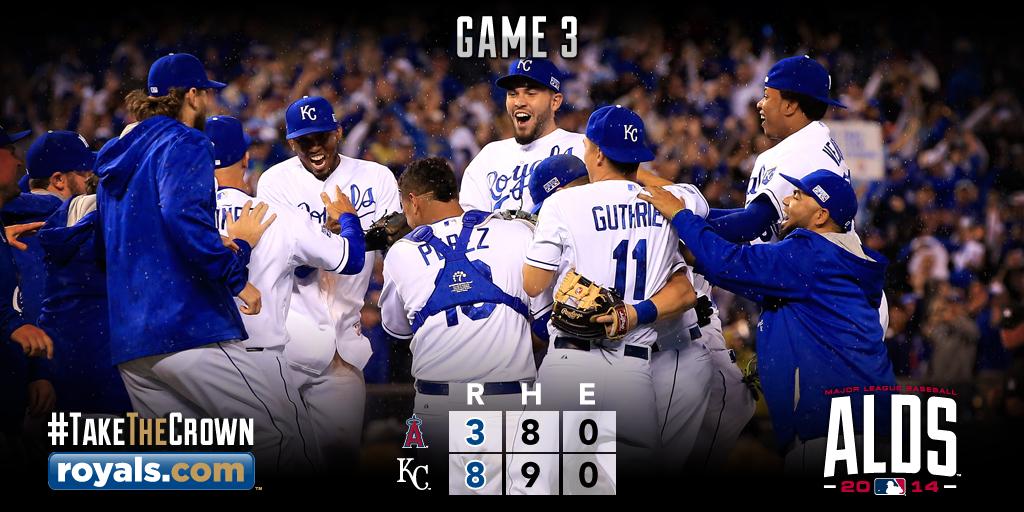 I have waited 29 years for this moment, and right now – due to a bottle of wine and several either home run, run, or stolen base shots, I am slightly inebriated. I had a ton of plans for how this weekend was going to go, but none of that has played out, and that's OK with me. Royals win and are going for the pennant for the first time in 29 years. The Cowboys won. The Saints won. Mississippi State won. Everything is right in my world. I don't know about your world, but everything in my world is beautiful.
Except that outside of sports, there are so many things that need attention and haven't gotten it. I was supposed to get my grades done this weekend. I didn't do that. I was going to get my house clean. And I didn't do that. I was going to have my lesson plans finished up. Nope. ..and the sad truth is that even though I loaded up my little cart before I left work on Friday, I knew it was highly unlikely that I was going to do anything with all of that stuff; there were too many other things that I wanted to do…and didn't do.
I was going to clean my house Friday night. And that didn't happen. I was going to get grades done on Saturday. And that didn't happen. I thought I might get caught up on Sunday. And that didn't happen.
This morning in my morning pages, I wrote that I was behind – I should have gotten up and stayed up when the doggies needed to go out, but I didn't. A week's wort of extra innings games meant that I needed a few extra hours of sleep. I took an hour this morning, and I knew as I laid on the daybed in the dappled sunlight that while that extra hour of sleep was heavenly, I would pay dearly for it.
Instead of working on lesson plans or grades today, I spent the early afternoon's football game trying to figure out the problem with my blog. I think I may have finally hit upon it, but I'm not sure. In the meantime, I've uninstalled all of my widgets and plug-ins – keeping just a few of the best – and am still having an issue. I kinda think now that the problem might be that my image file sizes are too large. and if that is the case, that is OK. I can live with that and figure out a work-around. I get the feeling that with my next paycheck, I will be purchasing a custom theme so that I can control what is going on behind the scenes.
I've installed and uninstalled probably 6 or 7 themes in order to fix the problem that I am having with Facebook (& Bloglovin, if we are being honest here). I think I may have fixed the problem. I suppose we shall know this week.
In the meantime, I need to remember to resize my images before I post them. Who wants to volunteer for that position? The person who remembers to check those boxes in Lightroom for me?
I spent Saturday in New Orleans. I meant to just go over to Costco, maybe poke around the Quarter for an hour and then come home to get down to grading. However, things rarely go according to plan in New Orleans. I got another late start. I got up early, but I didn't get moving early. And once I got to New Orleans, refilling our ink cartridges at Costco took 2 hours.
So I went to City Park and took myself on an hour walk. I was hoping to get some pictures for the Fat Mum Slim Photo-A-Day project, which I did, as well as find some inspiration for a much more ambitious project. It was a beautiful day in New Orleans – the sun was shining and the temperature was just right. The wind was blowing, with just enough coolness behind it to make you want a light jacket now and again. But then you would step out into the sunshine and all would be well again.
(Much better photos to come this week from that shoot, but I figured I'd give you this throw-away to whet your appetite)
I had the house to myself this weekend for the better part of it. Sweet Husband went to Starkville with his daddy to watch Mississippi State beat the hell out of Texas A&M. It was good to be home, and dare I say it, good to be home alone with just my puppies and my things. I do have a bit of an introverted bent, and it occasionally needs to be fed. It doesn't need to be long, involved meals that leave you uncomfortable afterward, but I do enjoy the occasional satisfying lunch.
About the only other thing to know about the weekend is that besides the Royals winning, all of the other sports teams in the Pierced Wonderings house were also successful. Mississippi State, as I said, kicked the hell out of Texas A&M, and thus has moved up significantly in the polls (3rd or 6th depending on which one you look at). The Saints won (finally! And have improved to 3-2 on the season), and the Cowboys won (although we did our damnedest to give it away). It all makes for happy times about these parts, and we enjoy that. SH says that I'm glowing.
We've now come to the part of the show where it is time to set Intentions for the week to come.
Weekly Intentions – October 6 – 12
Photography
Writing/Blogging
Post each day – get back on schedule
Comment on other blogs
Curate the Clever Cookie materials so I can begin to work through them
Continue with Daily Morning Pages
Consider out-lining possibilities for participating in NaNoWriMo
Professional
Get grades done
Have lesson plans ready on Friday
Hang student work in classroom
Complete IIPs
Personal
Walk 30 minutes each day
Eat healthfully
Monitor weight loss
Read
Focus on relationship with SH
It appears that I will again have the house to myself for at least Friday night, which is the night the ALCS begins. I'm debating whether I want to invite some girlfriends over to watch the game or if I just want to revel in it alone. If this week is anything like the last, it may well be that my list of intentions is a bit overwhelming and I'll be playing catch-up, trying to get myself back on track again. Let's hope that I keep myself a bit more organized this week, hmmmmm?